This post may contain affiliate links. If you use these links to buy something we may earn a commission. Thanks.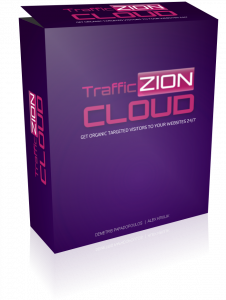 I won't be reviewing many Internet Marketing products because I don't have much faith in most. I also don't have time to use and test them before making the recommendation. TrafficZion Cloud is one that I have done some testing with and can recommend.
This version of TrafficZion is the latest from Demitris Papadopoulos (D-papa as he's known) and is cloud based. You don't need to keep the software on your computer.
This software and method of generating traffic works – plain and simple. Within a couple of hours it started sending visitors to one of my blogs using a huge traffic source. See the screenshot to the left for my 48 hour test. Using keywords and tags, they get your site infront of REAL PEOPLE. Those people will like and follow your blog, or website, or offer. You can pretty much send the traffic anywhere you like. Kind of.
Everything, so far as I can see, really needs a self-hosted WordPress blog to be the source. You install a WordPress plugin, jump through a couple of simple hoops and traffic flows. If you want to send it to a site other than your WordPress blog there are some other steps involved and I haven't tried this yet.
Update: From what I've come to understand, their server takes the keywords you've requested, finds appropriate posts & profiles and then likes/follows them on your behalf. This may or may not cause the owner to click back to your site – and if they do, you get traffic. There's a tiny mention in the videos to NOT turn on notifications because you could get flooded.
Now, D-papa is an interesting character as you'll see if you watch the videos or read his posts on Facebook. Installing this setup takes a bit of time (10-15 minutes) and has a few steps that aren't clear. Either I rushed the videos or they're in the middle of changing it. I had no problems setting things up but reading Facebook it's obvious some people do. And when D-papa and his team provide support it's with a certain … flavor.
His latest email contains the following phrase:
So I decided to take my frustration, out on a live streaming episode, where I also take you by the hand, step by step, like literally , step by step, on how to set up TZ with a BRAND NEW SITE too….
I don't think I've seen anyone rant like this to their new customers before. But hey, he runs his business his way, right? That said, if you buy TrafficZion Cloud through my affiliate link I get a commission and then I will help you set it up. I've done it, so I think I get how it works.
Tribe – TrafficZion Part 2
There's an upgrade to Traffic Zion called "Tribe" where you're basically sharing selected posts from your blog or whatever with others to get more engagement. This seems like a really good thing from SEO and marketing perspective.
As people interact with this, it sends "social signals" to Google and others that your post is valuable and you get higher rankings. Cool.
For right now though, I'm in a waiting mode because it's not working for my blog. I get a message saying the "API is disabled for this blog"… whatever that means. No response from support yet but it's the weekend as I write this. I'll post an update shortly.
Update: I still don't have a response from support, but when I added this site, it worked properly. I was able to mark this article (you can add up to 10 to get traffic for a month) so we'll see how the difference is.
Since this blog is brand new, I'm basically going to rely on nothing but TrafficZion and organic traffic while I build out a few articles.
UPDATE Dec 3: I'm "downgrading" this plugin. Right now it seems like I am getting a little bit of traffic from it, and the developer was able to find a hidden setting in Jetpack that was blocking the Tribe feature. So far that feature is really hit or miss.
For this site, I have to enter http://solarflarecomputing.com or I get a "blog not found" error. For my other wise, no www and I can't search for a blog post by title, which is supposed to be a feature. Not being able to search means I can only target Tribe traffic to the 20 most recent posts. Most of which get traffic by virtue of being new, promoted and published to social media. The referrer data isn't show much in terms of anything yet but it's early.
---
TrafficZion allows you to get:
Free Targeted Human Traffic From a reputable trafficsource which powers up 30% of the internet
Followers : Once turned on, no matter what niche you're on, you start getting real followers to your websites.
Clicks: You get real clicks to any offer you have on your websites, which matter.
Passive Income: Real Traffic, that is consistent, on a day to day basis, helps you get passive income, from various monetization methods.
Check out the sales page and demo video here.