This post may contain affiliate links. If you use these links to buy something we may earn a commission. Thanks.
Pretty Links is a fairly simple plugin that allows you to manage, organize, streamline, track and cloak affiliate links. That sounds like a lot, but mostly there are 2 core features to this, but let's back up and look at the WHY.
Why use a link manager?
A link manager, like Pretty Links, helps you track your linking. Seems like something you might not need to track right? If you're just linking to cute doggo pictures or an occasional recipe it might not be. But if you're running ads, doing affiliate marketing or want to simplify any kind of link, you need a tool.
There are many link managers and cloakers like Bit.ly or TinyURL that will shorten an ugly link like somesite.com/afftrack=abcdefghi into something more readable and let you track the clicks. But that's a link people automatically know goes off your site, along with the "link juice" if you follow that SEO stuff.
Affiliate marketers also use link managers to hide the part after "afftrack" to prevent "hijacking". If I know you use 'abcdefghi' as your affiliate link, I can either change it to someone elses, or remove it. You don't get paid.
What if you had your own system? What if that system cleaned up links, tracked clicks, automatically intersted them into posts, made sure you got your commission and did so much more?
That's what Pretty Links does – and more.
How do you start using Pretty Links?
Pretty Links is a WordPress plugin so you need a WordPress site. Note unless you're on an expensive monthly service with WordPress.com you can't install plugins on WordPress.com. Pretty Links usually starts as a free plugin installed from WordPress.org.
I recommend installing the free version, either by downloading it or searching for it in your WordPress site under "Plugins->Add New".
Once you find the plugin, you can click the Install Now button. That will download it from WordPress automatically and install it properly to your site. After it's done, the button will say "Activate" and you should click it again.
You're immediately directed to their "Welcome" page which is really decorative. It confirms that you have installed Pretty Links correctly and shows you how to quickly get started generating your first link.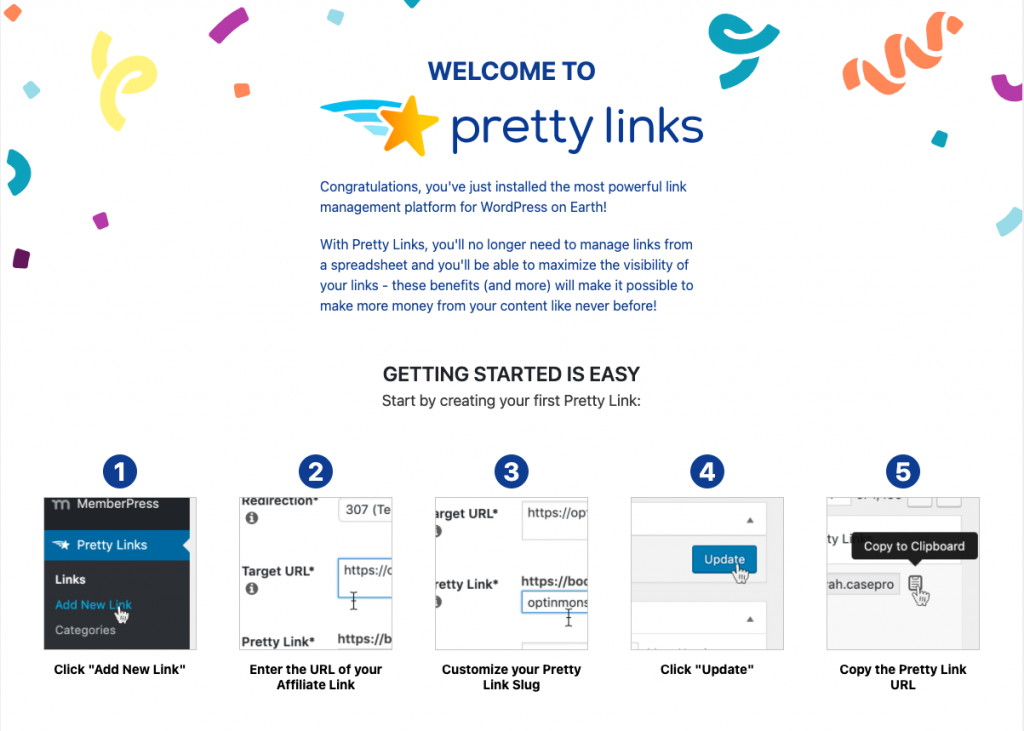 Now the fun begins…
From here you start creating your links. They walk you through it, and in the Lite version that you likely just installed there aren't a lot of options. You can quickly create simple links with nofollow or sponsored tags, choose from 3 redirect types and set a couple of options.
If you try to go beyond that you'll get a prompt to upgrade to the Pro version.
There are a bunch of things the pro version does but there's also a TON of value in the lite version. You can create unlimited links, choose either random or custom urls, get simple click counts etc. which is likely enough for a lot of people.
But if you're serious about tracking your clicks, organizing URLs, split-testing campaigns, auto-inserting URLs, auto-creating URLs, change the redirect by visitors location and more, then you need to upgrade.
I'm still new but there's at least 2 cool features that caused me to upgrade.
Groups/Categories
Auto-inserting URLs
Let me explain briefly.
Groups/Categories
This site is about print-on-demand, low content marketing and tools so I'm going to have a bunch of links. Some will be products I use, some will be other types of referrals and who knows. So I created 2 categories right away.
Basically products I use and long-term recommendations. Things like NameCheap or Printful that are the core of my business.
Shorter term promotions like PrettyLinks or a new coloring package
I may add more categories or sub-categories but either way it helps keep the list neater. Right now I only have a few links, but I can see it growing.
Auto-replace keywords
This is my favorite feature, and one I was introduced to through another plugin I use on a different site. The other plugin is super simple compared to Pretty Links and I'll probably replace it.
Basically, you define "keywords" that related to the link and when an page or post is rendered, those words are automatically linked. In this particular review, I didn't manually link anything. Every place that Pretty Links is linked was done automatically.
You simple enter a number of keywords or phrases separated by commas and throughout your entire site those words will be replaced with your specified link.
As you can see, the PRO section for each link offers a few options. You can expire the link after a date or number of clicks, set the keywords, have Pretty Links replace actual URLs with this link, set custom Head Scripts if you're using the Javascript or Pretty Bar redirect method and finally choose from some complicated Dynamic Redirection options.
Dynamic redirection can be based on simple rotation through multiple URLs, geography, technology or time. Technology options include browser, operating system and device type. Time lets you redirect someone during specific time frames, both date and time of day.
While you can add multiple redirection options of each type, you don't seem to be able to mix them. So this link can have multiple different Technology based options, but not technology and time combined.
Quick Points
Pretty Links is also integrated with the new Gutenberg editor. As you write, you can choose the option in the context menu to search for and insert any of your links or hyperlink text. This feature works in both the Lite and Pro versions.
In the same menu, you can also create a new simple Pretty Link immediately with options to set the nofollow tags and custom "slug".
You also get a Bookmarklet to let you quickly create links from your browser bar, custom reports, general click reports, import/export links and much more.
What's wrong with it?
Nothing – so far, but in reading other reviews it seems they've removed some things in recent years.
From the Link list it seems you used to be able to quickly Tweet, email or share the links whereas now you only have the option to Copy – which is probably all you need.
Conclusion
Since I bought Pretty Links, and now I'm recommending it, I'd say I'm pretty happy. I've had no issues but I've also barely scratched the surface of what it can do.